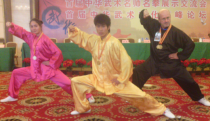 Last October, 2011 I had the pleasure to attend a competition held by the www.cfws.net (Chinese Folk Wushu Society) at Xianghe, near Beijing. I was escorted by one of my Tai Chi teachers, Master Mei Juan Luo who had been invited to sit in as a judge on the higher level entrants. She took myself, her son and another student along with her for the three day event.
Situated in the rather bizarre and not a little post modern recreation of a palace that had stood in Beijing at some point. The place oozed ancient charm and tourist entrapment. The thick smog from the local industrial zones made us all a little ill I am afraid but the effect of the fog added to the palaces mystique. We had plenty of time to explore which was fascinating not least because one of the temples housed a giant, maybe 6oft Buddha. We also got to meet lots of people and ate well at the buffet put on for us. While in the evening calligraphers working in the hotel corridors would paint phrases for us on request.
The competition was also extremely interesting as we got to watch an amazing array of different styles, skills and ages perform. Actually we were in the level one category so most of the people in our section were still of school age. Never the less we did our best to impress them when it came to do our form. I did a simplified version of the Chen Style 18 short form and a version of the Yang Style Long Form I had agreed with my teacher in the UK.
The loud music, people walking across the floor as you performed and the awful carpets made focusing a trifle difficult but I guess that is part of the art of competition. The judges seemed happy though we nearly didn't get our awards because they could spell our names.
I certainly would like to do another competition and I realise now its not about winning the event is more of a grading really and you are more likely to be competing against yourself than anyone else. So my quest to go to another competition remains unfulfilled right now but hopefully in the near future…